Blair Township, Washington County, Nebraska
Blair Township, carved from other precinct territory when John I. Blair built the railroad through the county in the later '60s. It is now bounded on the north by Cuming City Township, on the east by the Missouri River and De Soto Township, on the south by De Soto and Richland townships, on the west by Lincoln Township.
Its streams include Pappillion Creek, besides there are numerous lesser streams that drain and water the goodly farming section.
The railroads of this township are the various divisions of the great Chicago & Northwestern system, including the "Omaha" line running from Omaha to Sioux City and on to St. Paul and Minneapolis.
The lower end of a great drainage ditch coming down from the northwest, courses through the northeastern sections of Blair Township.
The population of this township according to the last three United States census enumerations was: In 1890 (including City of Blair), 2,069; in 1900 it was 2,970 and in 1910, 2,584. It is now about 3,400. It is an excellent agricultural district and the hundreds of fine farm homes with modern improvements are indeed a charming sight for the traveler to behold as he glides along over good roads in his automobile.
City of Blair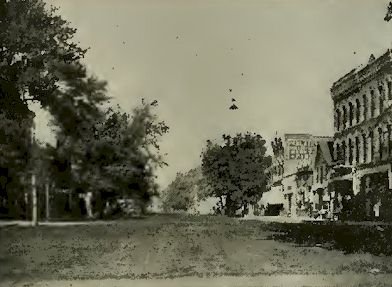 Blair Nebraska
The beautiful City of Blair, the county seat of Washington County, has a history dating back to 1869. It is situated about two miles from the western shore of the Missouri River, and its altitude is eighty feet above the low water mark of that stream. It is in latitude 41 degrees and 30 minutes. The first of the white race to permanently locate here were three brothers, Jacob. Alexander and T. M. Carter, who set their stakes here in the month of May, 1855.
Blair was platted on a 1,705 acre tract of land purchased by that great railroad builder, John I. Blair. This land was bought from the three Carter brothers, James S. Stewart, William Temple and C. H. Beekman.
Town lots were sold at public auction to the amount of $61,000 worth the first day of the auction which was March 10, 1869. The highest price of any single lot was $350. John I. Blair being in reality the owner of the land and controlled the railroad operations was very naturally the person for whom the town should be named. In fact, Mr. Blair has a number of town site namesakes, Blair, New Jersey, his old home; Blairstown, Iowa, and Blair, Nebraska, as just shown.
The county seat was removed from Fort Calhoun to Blair the same year of the town's platting 1869.
Railroads
Blair was really a child of the railroad interests of the locality. In 1864 the Northern Nebraska Air-Line Railroad Company was organized, and three years later received a land grant of seventy-five sections of land, which grant was transferred to the old Sioux City & Pacific Company, during the same year, the company being composed of John S. Bowen and four other men. In 1868 John I. Blair and associates got control of the franchise, and in June, the people of Washington County voted at a special election to the Sioux City & Pacific Company $75,000 in county bonds, and immediately thereafter Mr. Blair pushed the road forward across the Missouri from California Junction, and on through this county to Fremont, Nebraska, which point it reached December 1, 1868. From the date of Mr. Blair's purchase of the Carter property the founding of Blair was almost a certainty. The old Sioux City & Pacific as well as the Fremont, Elkhorn & Missouri Valley Railroad, became the property (wheel within a wheel) of the great Chicago & Northwestern systems of railroads, and also the Chicago, St. Paul, Minneapolis & Omaha line, another road of the Northwestern system, gridironed this part of Nebraska. The latter crossing the line from California Junction to Fremont, at Blair, the same being constructed in 1871, from Omaha to Sioux City, through Fort Calhoun, De Soto, Blair, Herman on the north to Sioux City from which point it extends to the twin cities-Minneapolis and St. Paul.
With these lines of railway extending to terminal points in the great eastern, western, northern and southern cities, Blair very naturally has had the benefits of good transportation outlets.
First Events in Blair
Blair was established in 1869 by John I. Blair. The first postmaster was Charles E. Laughton.
The county seat of Washington County was removed from Fort Calhoun to Blair in 1869.
The first building erected on the townsite was the "railroad store" occupied by Messrs. Clark and Donovan. It was in this building that the first really permanent store was established by J. J. Adams.
The first family to settle in Blair was probably that of C. H. Eggleston, who arrived in December, 1868.
J. E. West & Company were also among the pioneer firms to engage in general merchandising.
Other dealers included H. C. Riordan, hardware, from De Soto; A. Castetter & Company established themselves in collection, real estate and banking. Jesse T. Davis and Dr. F. H. Longley moved from De Soto in April, 1869.
The first child born in Blair was Henry Seirt, Jr., son of Henry Seirt and wife, May 21, 1869. The first marriage was that of Hans Grimm to Miss Lizzie Harder.
The first Independence Day celebration in Blair was in the first year of its existence, John S. Bowen being orator on the occasion, while Dr. F. H. Longley was marshal.
The first republican political convention in Blair was held in the autumn of 1870, Elam Clark presiding.
Blair was incorporated as a town in 1869 and as a city in 1872. The earliest public school was taught in 1869, by Sarah E. Kibby, but at the same place a school had been previously taught before the founding of Blair, by Miss Lida M. Newell, in 1868.
The first newspaper in Blair was the Register, established in May, 1869, by Hilton & Son.
The first sermon preached in Blair was in the summer of 1869 by Rev. Jacob Adriance, in a car at the railroad station, previous to the removal of the church from Cuming City.
The first Baptist sermon preached was in April, 1869, by Rev. E. G. O. Groat, on the platform of the railway station.
Municipality
Blair at first was incorporated as a "town" in 1869 by the county commissioners. The original officers were: J. H. Post, chairman; Alexander Reed, Dr. F. H. Longley, C. B. Herman and M. V. Wilson, trustees.
In September, 1872, the "town" became a "city" under a new incorporation proceedings, a city of the second class, when the following were elected: Mayor, J. H. Hungate; councilmen, William Maher, E. M. Denny, John W. Tew and M. Gallagher; police judge, John S. Bowen; marshal, Rice Arnold.
Mayors of Blair City
J. H. Hungate, 1875




F. W. Kenny, 1876




No Records 1876-1883




W. D. Haller, 1883




V. G. Lantry, 1884




W. C. Walton, 1885 to 1889




W. D. Haller, 1889 to 1891




A. C. Jones, 1891 to 1893




J. McQuarrie, 1893




E. A. Stewart, 1894




Perry Selden, 1895




M. D. Bedal, 1896




A. C. Jones, 1897




John McQuarrie, 1899




J. H. Flock, 1900

W D Haller. 1901-2




Clark O'Hanlon. 1903




L. A. Williams, 1904




W G Harrison, 1905-06




W. D. Haller, 1907




C. R. Mead, 1908




W. R. Williams, 1909-10




J. F. White, 1911




W. D. Haller, 1912 to 1915




J. F. White, 1915




Magnus Johnson, 1916




S. W. Chambers, 1917




J. S. Roberts, 1918




Henry Christensen, 1919-20
Blair has an excellent system of water works and the quality is second to none in Nebraska, by frequent rests made at Lincoln. Two deep wells afford plenty of water. One of these wells is 171 feet deep and a later one is much deeper than this one. Water is forced to a large cemented reservoir on the high bluff to the south of the city proper. This affords a pressure, at the curbing in the business part of the place, of something over 100 pounds per square inch. These water works were first installed in 1885, or thereabouts, and improved and extended from time to time as the city grew, really rebuilt. The cost as shown in the several bond issues was $34,000.
In 1917 the city took over the private corporation of the old Nebraska Gas and Light Company, the exact date being September 2, 1917. This cost the city $35,000, for which bonds were issued, running twenty years. The water and light plants are now combined and run by the city, with T. H. Trenberth as superintendent.
A fire department exists and sixty (the limit) members of a volunteer fire company guard well the matter of fires, when one occurs, so that loss is slight in this direction. The department is finely equipped with modern appliances, including 3,000 feet of workable hose, plenty of long and shorter ladders, four hose-carts, a new Ford fire truck, and a large capacity chemical engine, just installed into use.
Street paving commenced in 1920 and the contract was let to an Omaha firm to lay a cement-base brick paving over the streets of Blair during 1920-21 to the amount of sixty-seven blocks, or equal to about four and one-half miles.
Other city improvements at this date is the construction of 82,180 feet (fifteen and one-half miles) of sanitary sewer, of which the lot owners pay about $66,000 and the city pays $25,000.
A very handsome well-built city building was erected of pressed brick in 1912. In this are kept the city offices, the fire department, and other city works, including water and light offices. It is just across the street south from the Government post office building.
Present City Officers ~ 1920
Mayor, Henry Christensen


Clerk, C. E. Krause
Treasurer, R. G. Allen
Chief of Police, Samuel Stevens
Chief of Fire Department, K. A. Petersen
Health officer, Dr. E. R. Stewart
Members of the city council, F. S. Bigelow, George Carmichael,
L. A. Farnberg, Henry Grimm, J. E. Lutz, J. W. Newell and P. C. Sorensen.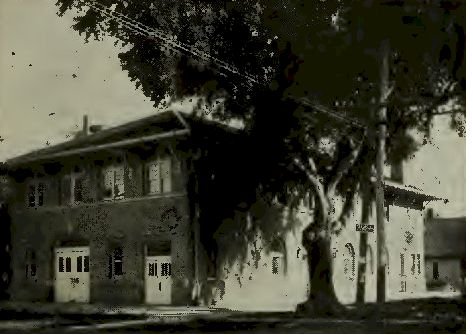 Blair City Hall
Commercial Interests-Early Dealers, Etc.
The following shows the names of many of the business and professional men and women of Blair, the same all having been there prior to 1876 and a number were there from the earliest history of the place, 1869-70.
The first real business house in the place was that of Herman Brothers, dry goods, and the next was Clark & Donovan, dealers in groceries and hardware, who later sold to John Adams. West & Lewis were early in dry goods business; also Ross & McBride. Drugs, by Haller & Lane and Jone Zehrung, later the Peterson-Zehrung firm. Matthiesen & Logan carried a stock of dry goods and groceries; M. C. Huyett, clothing; H. McBride, dry goods and groceries; Haller Brothers, dry goods and groceries; William Maher, in the last named line; R. W. Dawson, photographer; William McCormick, had a grocery store, and a dry goods and grocery was kept by E. Frederick. Hardware were kept by H. C. Riordan & Kenny, and later Kenny & Stewart. Agricultural implements by Gus Lundt, Graves & Frederick; Charles Schurig, bakery; J. Nestel in same line; later another bakery was established by A. Casper. Boots and shoes were kept by Lewis Valentine. Miss Lantry, Mrs. W. C. Walton, Mrs. McKay, Mrs. Hilton, Mrs. Sarah E. Higley and Mrs. R. W. Lawson, millinery.
Among the pioneer hotels in Blair are remembered these: Kelly Brothers, Martin Kloos, William Maher, William Carson, Mrs. A. M. Quimby, Mrs. E. E. Sketchley, George Seirt and Henry Seirt. Heinzerling and John Connell were the first to deal in harness goods. Butchers of the first five years in Blair's history were: Sheeley & Ervey, William O'Hara, William Miller, J. Hart, M. V. Wilson, John Connell, Bowen & Parks and John Parks. The grain dealers were Elam Clark & Son, C. C. Crowell and the Blair mill. The pioneer blacksmiths were John Tew, Frank Stanfield, Ed Cochrane and John H. Smith. The physicians were Drs. F. H. Longley, S. B. Taylor, S. H. Fawcett, C. Emerson Tennant, McLean, D. H. O'Linn, William H. Palmer. Lawyers included: Davis & Carrigan, later Carrigan & Osborne, W. C. Walton, B. F. Hilton, J. S. Bowen, M. Ballard, A. D. Brainard and J. W. Tucker. Real estate agents: Alexander Reed, Alonzo Perkins, A. Castetter. The early banker was A. Castetter.
The Blair City mill was completed about 1876. It was the property of H. B. Dexter, Eli H. Turton, V. G. Lantry, Messrs. Carter and Wortendyke.
In 1875 Blair dealers shipped out $300,000 worth of cattle and hogs to the market places of the country.
1920 Business Interests in Blair
As the years come and go it will doubtless be of some interest to future readers of this work to know who all were engaged in various business and professional callings in this sprightly city, now rapidly growing and destined ere long to become a much larger city, hence the subjoined business directory of today:
Automobile Garages, G. A. Rathmann, Van Huss-Antill, Walter Larsen, Lucien Haller, Arndt Hardware, George Corson, B. H. Holmes, S. J. Johnson, Jensen & Nielsen.

Attorneys, Grace Ballard, E. B. Carrigan, A. C. Debel, I. C. Eller, E. C. Jackson, John Lothrop, William J. Meher, Henry Mencke, D. Mummert, Clark O'Hanlon, Reed O'Hanlon.

Automobile Dealers, G. A. Rathmann, Van Huss-Antill, Walter Larsen, Lucien Haller, Arndt Hardware. Abstract Firms-Ricker & Chambers, Ove T. Anderson, Claus Mencke.

Agricultural Implement Dealers-Smith Brothers, Peterson Brothers and the Farmers Co-operative Union.

Banks, The State Bank of Blair, Banking House of A. Castetter, Citizens State Bank and Farmers State Bank.

Barber Shops, C. E. McComb, Fred Nemetz, Charles Antrim, H. C. Petersen.

Bakeries, Hansen & Andersen, and Mrs. William Beyer & Son.

Blacksmith Shops, C. Molgaard Jensen, Miller Munk, R. M. Ludwick.

Clothing (exclusive), James L. Pounds.

Cement Works, Crowell Lumber & Grain Company. Cream Stations-T. H. Wright, Soren Rasmussen, J. C. Christensen, Frank Jenkins.

Drugs, Stewart Pharmacy, W. W. Witherby, and Ed Wolff.

Elevators, Crowell Lumber & Grain Company, Holmquist Grain & Lumber Company and the Farmers Co-operative Union.

Furniture, J. E. Campbell and J. I. Unruh.

Feed Stores, John McKay and John A. Rhoades.

Groceries, J. Mueller, H. J. Wimble, Jens Nielsen, A. Christensen.

General Merchandise, Sas Brothers, C. J. Beekman, Henry Christensen, "P. Z. The Shoe Man."

Hardware, Thone & Farnberg, Julius Petersen, Arndt Hardware Co.

Hotels, The Clifton, T. G. Rodgers, proprietor.

Harness Goods, Gus Scheffler.

Ice Dealers, Axtell Brothers.

Jewelry Shops, H. Ollermann.

Lumber, Crowell Lumber & Grain Company, Christensen Lumber Company.

Livery, J. P. Everson.

Monumental Work, J. E. Lutz, S. W. Schmidt.

Meat Markets, Jens Nielsen, Alexander Swansen, A. Christensen, Brown & Kemner, Chris Hansen.

Millinery, Mrs. Willa M. Jenkins, Mrs. T. C. Hilton.

Mills (Flouring), Blair Milling and Grain Company.

Newspapers, Tribune, Pilot, Enterprise and Danskeren.

Photographers, J. A. Kuhn, H. C. Olsen.

Picture Shows, The Home, C. J. Robinson, proprietor.

Produce Houses, Blair Produce Company.

Physicians, Drs. Morris Nielsen, L. J. Kilian, R. J. Murdoch, G. A. Langstaflf, J. V. Hinchman, E. R. Stewart, W. H. Palmer.

Restaurants-S. H. Pounds, Ed Rann, M. Carlson.

Stock Dealers-Rathmann & McCracken, W. C. Allen.

Shoe Stores (exclusive)-Blair Shoe Company.

Shoe Repair Shops-Hansen Brenholdt, Hans Sorensen, J. E. Fischer.

Tailor Shops-A. F. Garske, J. P. Johnson.

Veterinary Surgeon-D. C. Peebles, Hammond & Tilden.

Music House-The Bee Hive.

Manufacturing Plants (Industries)-Blair Horse Collar Company, The Blair Canning Company, The Foolproof Spark Plug Company, The Porter Incubator Company, Liberty Stock Remedy Company, Haller Proprietary Company, Aye Brothers Seed House and Mount Hope Fruit Farm.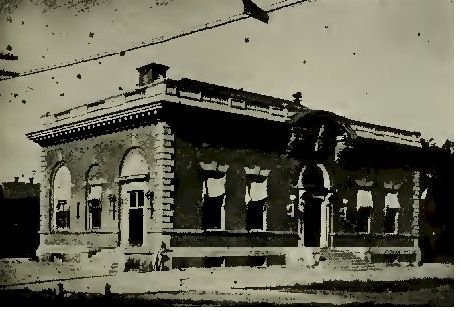 Blair, Nebraska Post Office
Blair post office, now an office of the second class, was established in 1869 with John E. Lawton as the pioneer postmaster. There are now nine mail trains daily at Blair. This was made a free delivery office August 1, 1913; its present city carriers are Leslie R. Offen, John C. Anderson. Delmar C. Feer, with substitute Alfred N. Feer. The office force includes the following: Margaret McMillan, assistant postmaster; Bruce McMillan, Mrs. Eva Cook, clerks; Robert L. Widner, janitor; Mrs. Mary Nelson, charwoman.
There are four rural delivery routes extending out from Blair to the surrounding country. The carriers on these routes are at this date (1920): Howard Sutherland, James Reid, Raymond Hewitt and Cylde Allen.
The following list of postmasters serving at the Blair office is now to be seen preserved (with photographs of the postmasters), in the postmaster's office in the new Government building: John E. Lawton, Dr. Silas Fawcett, L. F. Hilton, Cara Clark, John E. Boggs, Thomas Wilkinson, W. J. Cook and Thomas T. Osterman. Of this number all have passed from earth, save Miss Cara Clark, W. J. Cook and the present postmaster, Thomas T. Osterman, Mr. Hilton being the last to die.
The Blair City mill was completed about 1876. It was the property of H. B. Dexter, Eli H. Turton, V. G. Lantry, Messrs. Carter and Wortendyke.
In 1875 Blair dealers shipped out $300,000 worth of cattle and hogs to the market places of the country.
Crowell Memorial Home for the Aged
This beautiful home is the gift of Mr. and Mrs. C. C. Crowell to the Methodist people of Nebraska that its superannuated ministers, their wives or widows, deaconesses and aged lay members of the church may spend the evenings of their life free from anxious care in the arms of the church to which they have given their love, their labor and their lives. This charming spot, just joining the City of Blair on the west, contains 11 acres of park, lawn, garden, orchard, vineyard and pasture. The original home contains twenty-two rooms of all sizes, with all modern improvements. The new building has nine rooms finished on the first floor and eighteen rooms on the second floor yet unfinished. This home was established in 1907, on a part of the old Crowell homestead place with its more than 100 varieties of shade trees, no two alike, originally.
There are three ways by which Methodists can find a home in advanced life; first, by paying in from a few hundred dollars up to whatever they may possess and this insures them a home the remainder of their days. Second, one without means may here find a home and receive the exact attention given to those of means. Third, if any time a Methodist of Nebraska should desire to become a member of the Home circle, he or she can do by paying a monthly board bill within the reach of anyone who boards now-a-days.
At this date, September, 1920, the Home has a membership of thirty-seven, of which ten are men and twenty-seven are women. The ages run from sixty to ninety-three years.
The present superintendent, Rev. W. H. Underwood and his excellent wife who is matron, published the following statement in September, 1920:
The receipts of the institution show a balance on hand September 6, of $669.59.
From the church, $8,142.91: from guests, $4,007.60; miscellaneous, $710.52; from maintenance fund, $2,167.55.
The disbursement fund shows among its items: Groceries, $1,643.95 meats, $690.43; coal, $847.25; building material, $4,144.80; gas, $386.05 feed, $675.47; salaries, $4,680.89; insurance, $1,012.85; light, $302.65 miscellaneous, $1,357.83.
Total amount of fund, August 1, $10,001.84. Cash on hand, $3,084.15. This is the only home for aged Methodists in Nebraska and but few other commonwealths have such a plan.

History of Dodge and Washington Counties, Nebraska, Rev. William H. Buss and Thomas T. Osterman, Volume 1, The American Historical Society, Chicago, 1921.
Please stop by again!!
This page was last updated
Copyright August © 2011 - AHGP The American History and Genealogy Project.
Enjoy the work of our webmasters, provide a link, do not copy their work.